Tamils in Britain and Canada vow to sustain Sri Lanka struggle
In both countries, home to large Tamil communities, a new focus on using democratic means to address grievances.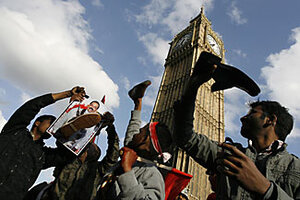 Luke MacGregor/Reuters
After weeks of watching from a distance as relatives and loved ones were caught up in Sri Lanka's final offensive against Tamil separatists, many in the world's Tamil diaspora are now in mourning.
But in Britain and Canada – home to some of the largest concentrations of Sri Lankan Tamils abroad – communities are mobilizing to play a part in what leaders describe as a new phase in their struggle for an independent homeland.
Following the military defeat of the Tamil Tigers, the talk now is of employing democratic means to address Tamil concerns. That goal could be tested, however, by a growing number of young expatriate Tamils who have become radicalized by the oppression of Tamils in Sri Lanka.
Like others around the world, British Tamils say their priority is the welfare of tens of thousands of refugees following the end of fierce fighting in a small area in northern Sri Lanka. They want the Red Cross and nongovernmental organizations to be allowed access to their camps, where they say the Sri Lankan military has no role to play.
British Tamils have always donated generously to Tamil charities, but not without controversy. Last month, a British Tamil leader was found guilty of supplying bombmaking equipment for the Tamil Tigers.
---