An Italian prince waltzes into politics
Prince Emmanuel Filiberto of Savoy hopes his recent win in Italy's 'Dancing With the Stars' will ignite a political career in his homeland.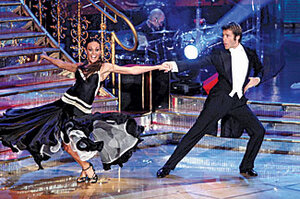 NEWSCOM
His family was not even allowed to set foot on Italian soil until 2003. But one of Italy's formerly exiled royals hopes that an unlikely win on a reality TV show will catapult him toward a political career and restore the honor of his once illustrious family.
Emmanuel Filiberto of Savoy, the grandson of Italy's last king, waltzed his way into millions of living rooms – and into the affections of his countrymen – on the Italian equivalent of "Dancing with the Stars."
Dressed in tight black trousers matched with a clashing red tie and striped waistcoat, the prince won the final round of "Ballando con le Stelle" – "Dancing with the Stars" – a program that pairs B-grade celebrities with professional dancers, who teach them how to cha-cha and tango.
Paired with a glamorous Russian dancer, the prince won 75 percent of the phone-in votes in the grand finale of the popular show in March.
Now, the rumba-dancing royal plans to use his victory as a launching pad for entering politics and restoring the tarnished image of his family, which was banished into exile when Italy voted to become a republic after World War II.
"I had no idea about dancing when I started," says the prince, who has spent most of his life in Switzerland and works as a banking consultant.
He successfully cast himself as a man of the people, notwithstanding his blue blood and his claim to the title "Prince of Venice and Piedmont."
---