From Albania, freed Guantánamo prisoner watches detainee debate unfold
As Congress worries about the dangerous prisoners, a Chinese Uighur asks: Why not release those deemed innocent?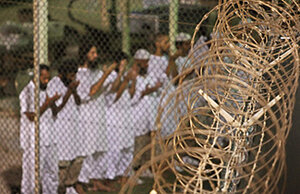 Brennan Linsley/AP
While President Barack Obama made his case Thursday for the transfer of Guantánamo Bay detainees, one of the terror camp's former prisoners was studying recipes in a restaurant kitchen here, doing his best to learn the chef skills that will support his new life in this new land.
Abu Bakker Qassim is one of five Chinese Uighurs released to Albania in 2005, after US authorities feared that repatriating them to China would expose them to persecution and human rights violations.
Seventeen of Mr. Qassim's Uighur compatriots remain in Guantánamo, even though they have been found innocent of wrongdoing and have been cleared for release.
Although an increasingly heated debate in the US focuses on how to handle dozens of remaining suspected terrorists held at Guantánamo, the Obama administration faces an equally sticky dilemma over releasing the innocent Uighurs.
The president has gotten resistance from Congress, with some arguing that the Uighurs – guilty or not – could pose a security threat. Other countries are skittish of taking the men, worried of angering China, which wants them returned for trial.
A detour in his path
When Qassim left his home in China's Xingjian Province in 2000, his dream was to reach Turkey, or, preferably, Western Europe.
After setting up a shop in Kyrgyzstan for a year with little success, he joined a larger group of 17 would-be migrants as they set off through the neighboring Central Asian republics.
---