In Italy, earthquake survivors struggle to make a tent city feel like home
Gardens and kids' bikes are small signs of an effort to create some normalcy in one of more than 170 encampments that house residents of L'Aquila, badly damaged by an April 6 quake.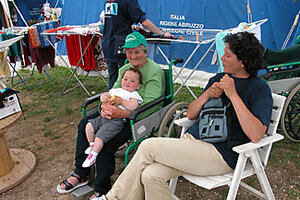 Alex Marks/The Christian Science Monitor
Wildflowers sit on a table and laundry hangs outside the Cordones' new home – a blue tent in an encampment on the outskirts of L'Aquila, a medieval walled city nestled in the mountains 60 miles east of Rome.
The family of three has lived here with more than 1,200 other people since the morning of April 6, when an earthquake cracked the ground and crumbled their home and much of their city.
The Cordones' old street is now strewn with rubble. It's near the center of L'Aquila, where more than 60,000 people once lived. The once-bustling narrow lanes are empty except for police, firemen, engineers, and the occasional pack of dogs.
These are the two worlds international leaders will confront when they gather here for the Group of Eight (G-8) summit in July.
One is the temporary tent city thriving with schools, a hospital, and canvas homes complete with potted plants, gardens, and kids' bicycles leaning outside.
Less than a mile away are remains of the centuries-old city, where 1 in 4 of the stone, stucco, and concrete buildings has collapsed or is now nothing but exterior shells.
Italian Prime Minister Silvio Berlusconi decided to move the annual meeting from a luxurious island off the coast of Sardinia to the devastated city, shortly after visiting there last month.
Dignitaries like President Barack Obama and British Prime Minister Gordon Brown, along with their retinues, will be staying at a military barracks on the outskirts of town that was not damaged.
---