One party for all of Europe? Libertas debuts in EU Parliament election
The new party is fielding 600 candidates in two dozen countries. Will EU reform resonate with recession-weary voters?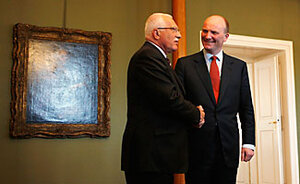 Petr Josek/Reuters
In Sweden, there's the Pirate Party advocating free Internet for all. The Netherlands has the anti-Islamist Party for Freedom (PVV), and Germany, the Violets Party (Die Violetten), which believes that politics should be more holistic and embrace nature.
Voters speaking 23 languages throughout 27 countries have diverse choices in the forthcoming European Union elections rolling through June 4 to 7. But one party, Libertas, is arguing that it can appeal across borders and language divides.
Led by Irish millionaire businessman Declan Ganley, Libertas says it has 600 candidates contesting the election in two dozen countries.
The group was formed to oppose the Lisbon Treaty, which sought to streamline the EU's decisionmaking process, but, according to Libertas, gave too much power to unelected officials.
After successfully opposing the Irish referendum, it registered as a political party and is campaigning for political and bureaucratic reform of EU institutions.
---