D-Day+ 65 years: Obama set to make Normandy landing
Veterans still make their way back - and the locals still thank them for their role in a decisive battle for the Continent.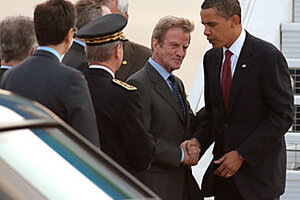 Philippe Wojazer/Reuters
Anticipating the US president on the 65th anniversary of D-Day, Normandy locals are calling Omaha Beach, where US troops landed, "Obama Beach."
Yet even without the high-profile meeting between President Obama and French President Nicolas Sarkozy at the American cemetery overlooking Omaha, D-Day interest is surging past what planners imagined – partly due to dwindling numbers of veterans, but also due to the day's sheer historical significance.
Veterans who remember the so-called "longest day" – the gray and rainy June 6, 1944, when allied forces stormed ashore to take a foothold in France and ultimately overthrow Hitler's Europe – are now in their late 80s and 90s.
When they hit the beach, they were in their late teens or early 20s. Most of the officers, who are typically a bit older, have passed. In Paris Friday, 50 D-Day vets received the Legion of Honor, France's highest award.
Although Operation Overlord, the most complex assault ever attempted, has been memorialized in books and movies, including accounts of the "greatest generation" in popular films, like "Band of Brothers" and "Saving Private Ryan," as well as in blowout 50th and 60th anniversary celebrations, local officials have feared that the exploits of the men might fade.
---