Sweden's Pirate Party sets sail for Europe
Young voters gave a seat in EU parliament to new party that campaigned to loosen copyright laws.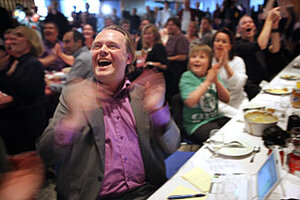 Fredrik Persson/AP
It started as a protest movement over shutting down a website accused of distributing pirated music.
Today, it has a place in the European Parliament.
Buoyed by a majority of young people and first-time voters in Sweden, the Pirate Party won more than 7 percent of the vote, ensuring at least one seat at the European Union Parliament in Brussels.
The Pirate Party rose to prominence earlier this year by campaigning for the music and movie file-sharing website Pirate Bay.
In April, the website's founders were convicted of copyright violations and given a one-year jail sentence as well as a $3.6 million fine.
But in the wake of that ruling, the site continued to operate and the party tripled its membership base, becoming the third largest in the country.
There is more, however, to Monday's victory than a protest vote and illegal file sharing.
The Pirate Party won the support of the majority of Swedes under the age of 30, a group which traditionally fails to participate in European elections. According to polls, a quarter of their voters have little trust in politicians. Almost a fifth are potential supporters of the extreme right-wing Sweden Democrats, who – as a direct result of the Pirate Party – failed to garner enough support to win a seat.
While the Pirate Bay court case boosted the party's profile, the political climate was already changing in its favor.
---