Impasse with China erodes Dalai Lama's patience
On his recent European tour, Tibet's exiled leader preached compassion, but expressed frustration over 'lies and hypocrisy' from Beijing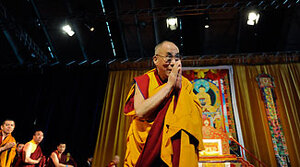 Toussaint Kluiters/United Photos/REUTERS
China's ramped up criticism of Europe's embrace of the Dalai Lama hasn't effectively blunted popular support here for the exiled Tibetan spiritual leader. And European politicians are still giving him a platform.
During a visit to Europe that ended in Paris Monday, the Tibetan offered a new and more urgent plea for help as well as a break with decades of a "turn the other cheek" policy. The change comes amid a Chinese crackdown in Tibet that began last year over broad dissatisfaction among Tibetans with Chinese policy, and an uprising among monks. [Editor's note: The original version misstated the timing of the visit.]
The Dalai Lama may not be welcome in Tibet's capital of Lhasa. But several European cities have made him an honorary citizen. Rome and Venice gave him the title in February. He is expected to be given the keys to the City of Warsaw in July. On Sunday, he became an honorary citizen of Paris.
But Tibetan advocacy groups are quietly dismayed over a lack of a unified and consistent European policy. In 2007, the Dalai Lama in polls was ranked as the most respected world leader in Europe. He has since fallen to third place – being bumped from the top spot by Barack Obama. (German Chancellor Angela Merkel is No. 2.)
---