The next 'moon landing?' Norway plans deep-sea CO2 storage.
The oil-rich nation believes a half-mile thick rock formation could store the next 600 years, or so, of CO2 emissions from Europe. Some say the science is not so clear.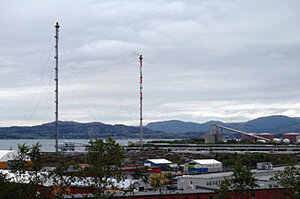 PIERRE-HENRY DESHAYES/AFP/Newscom
Can the North Sea basin hold all of the carbon dioxide in Europe? Norway certainly hopes so.
At a high-level conference in Bergen last month, the oil-rich Nordic nation announced that it will work with Britain to study how the base of the North Sea could be used for carbon dioxide storage for European countries. It will also allocate nearly $200 million toward carbon capture and storage projects in the European Union.
Although some environmentalists aren't yet convinced of the long-term prospects of sequestering carbon dioxide emissions deep under the ocean, the idea has become something of a holy grail in the effort to stop global warming.
The joint British-Norwegian study will build a profile for the whole North Sea, assessing each countries' storage potential and projections of likely volumes and locations of carbon dioxide (CO2) flows. The conference in Bergen, where the plan was announced, took place in advance of December's United Nations Climate Change Conference in Copenhagen.
The North Sea Basin Task Force, which now includes Norway, Britain, Germany, and the Netherlands, has previously estimated the Utsira deep saline formation in the North Sea could store up to 600 billion ton of CO2, equivalent to all the emissions of all the power stations in Europe for the next 600 years.
---