Why Italy is taking Gitmo prisoners
Although President Obama has had difficulty convincing allies to take Gitmo detainees, Italy is eager to receive these inmates so that it can further its own investigation.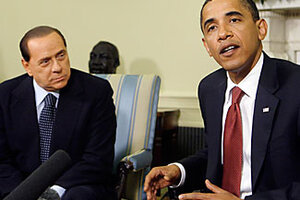 Haraz N. Ghanbari/AP
When Italy's leader, Silvio Berlusconi, met President Obama on Monday, he pledged two numbers: 150 more soldiers to be deployed to Afghanistan and three Guantánamo detainees to be transferred here to Milan.
The inmates are believed to be from North Africa. At first, Mr. Berlusconi's decision to take them spurred tough reactions from within his own government.
"I oppose taking [the prisoners] in, as long as we are not sure they will be kept behind bars," said Interior Minister Roberto Maroni, whose party, the Northern League, opposes the presence of Muslim immigrants.
The Obama administration, which has vowed to close Guantánamo by January, has recently asked European nations to take in 30 of the 140 prisoners currently held at the Cuban prison camp (to view the Monitor's previous coverage, click here).
---