Gabon leader's death revives debate over France's cozy ties with former colonies
Omar Bongo represented Paris's last old-style dictator in Africa. Two French presidents attended his funeral Tuesday.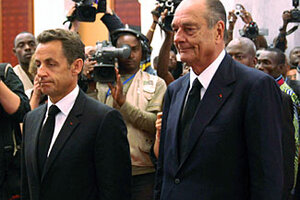 Sunday Alamba/AP
The death of Gabonese President Omar Bongo, and the booing of French president Nicolas Sarkozy at his funeral, are both seen here as potent symbols of change in France's controversial relations in its old colonial African sphere.
The question being asked in Paris is – how much change?
At Tuesday's funeral in Libreville, outside Mr. Bongo's estimated $800 million palace, Gabonese protesters shouted "No to France" at the president of the French republic. They also chanted "We want Chinese, we want Chinese" – a nod to China's spreading influence in former French African states.
Bongo was France's last old-style dictator-patriarch in Africa, a French ally and broker helped into office by Charles de Gaulle in 1967. He died in a Barcelona hospital last week.
Bongo personified "la Francafrique." The term came to stand for decades of lucrative French oil and mineral interests in west and central Africa, supported by political kickbacks, slush funds, and influence peddling. It's been an unofficial policy – run more out of the Elysee palace than the foreign ministry – as stated by Valery Giscard d'Estaing, who was president of France from 1974 to 1981.
---