France: Can the country ban a church?
In criminal case, the Church of Scientology says it is being scapegoated in a wider campaign against freedom of religion.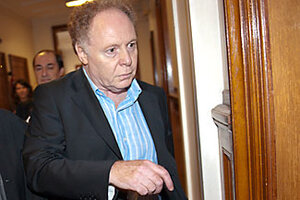 Philippe Wojazer/Reuters/File
France mingles a strong private Roman Catholicism with an ardent public secularism, and its acceptance of smaller faiths and sects swings back and forth. But in the past decade, there's been a singleminded focus on the Church of Scientology and its estimated 45,000 members here.
Now, in closing arguments before a criminal court in Paris, two French prosecutors this week called for dissolution of the church itself, the first such instance in France.
The case, which brings suits filed years ago by two former adherents charging the church with fraud, swindling, and mental harm, treads into legal waters rarely navigated in a nation that, since 1905, has kept religion a strictly private matter.
The Church of Scientology and its legal team argue vociferously that French authorities are using Scientology as a "scapegoat," as one defense lawyer said, for an overall campaign in France against freedom of religion and a crackdown on sects.
How far the court will go toward banning Scientology, the US-based church known for its Hollywood celebrities and unorthodox recruiting tactics, won't be known until an Oct. 27 ruling.
Roger Gonnet, a former Scientology official who testified against the church, told the Monitor that "French courts don't rule about religion in law, but no association [church] should be allowed to get away with illicit activity and fraud, or cover it up with private settlements.
"This is a church built on lies, and France is taking it seriously," he adds. "France doesn't take 11 days in court with two prosecutors on such a case if it isn't significant."
Eric Roux, acting president of a Paris Scientology branch, wrote in an e-mail that the trial prosecutors, "who receive orders directly from the Justice ministry ... showed nothing new in any charge. Instead, the religion of Scientology was attacked in a very general way, like an Inquisition for 45,000 of us. Still, we believe that after 50 years of Scientology in France, the French Constitution will protect us."
---