Lance Armstrong gives Tour de France new juice
The seven-time champion lines up in Monaco on Saturday for Day 1 of an event looking to overcome the doping-inspired moniker "Tour de Farce."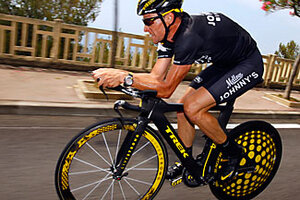 Bogdan Cristel/Reuters
Behold the conquering hero, again. Let the race begin! And let's forget the last few years.
The return of seven-time Tour de France champion Lance Armstrong to the world's premier cycling event has given a fresh start to what has become known here as the "Tour de Farce" for its annual doping scandals. Mr. Armstrong, as seen here, offers a needed new story line, despite his own rocky story line with the French.
This Saturday, the star from Texas lines up in Monaco with 20 teams of nine cyclists for a 10-mile contra-de-montre – a timed sprint. It's Day 1 of the 106th Tour, which ends in Paris July 26. Armstrong has been gone three years; his last Tour was 2005, when he won an unprecedented seventh consecutive victory.
After that, the Tour leader boards became a repository of doping charges and ejections. While great cyclists are famed for "cheating the wind," Tour officials found they were cheating a lot more than that.
Whether Armstrong – long the subject of intense public and official scrutiny over possible doping, but never proven guilty – can win an eighth yellow jersey is in some ways seen as immaterial here. The excitement over the very possibility is what the Tour de France franchise relishes.
French media compare the 37-year-old cyclist with an aging Terminator or an Indiana Jones. "Armstrong's eighth episode ... is better than a Star Wars sequel," says Florian Egly of France 24 sports, slightly tongue-in-cheek. "There's nothing else in July anyway."
---