As G-8 convenes in Italy, tough questions of economic stimulus and climate change
The nations meeting in earthquake-devastated L'Aquila are also likely to consider what actions to take on Iran, North Korea.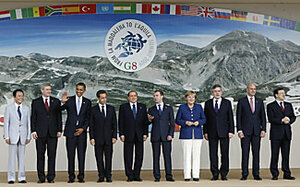 Andrew Medichini/AP
The world's most powerful leaders descend on a city in Italy's Apennine mountains today for a G8 summit overshadowed by the worst global recession in decades.
This year's G8 has more than enough weighty issues to deal with, from reform of the global financial system to food security, climate change, and development in Africa.
The group, which comprises the US, Canada, Britain, Japan, Russia, Italy, France, and Germany, will be joined by leaders and representatives from another 30 countries, from Indonesia to Egypt.
Chinese President Hu Jintao was expected to attend, but returned to China abruptly to deal with violent ethnic clashes in Xinjiang Province. China is one of five developing market economies – along with Brazil, India, Mexico, and South Africa – that have attended the meeting for the past five years.
---