In Paris, Uighurs launch fresh protest
But the issues they raised are longstanding, going back to China's "strike hard" policy against the mainly Muslim minority – a policy that was strengthened by US cooperation following 9/11.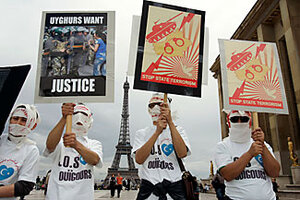 Francois Mori/AP
Today in Paris local Uighurs gathered at Place de Trocadéro to protest the violent clash between Uighurs and ethnic Chinese in China's western Xinjiang province, claiming that as many as 1,800 Uighurs were killed – a death toll more than 10 times greater than the official count.
Most covered their faces to avoid identification. Signs read, "Chinese state-sponsored terrorism." A young man argued that Chinese security forces had "gone too far," in dealing with what he said was initially a peaceful protest over widely distributed images of two murdered Uighurs. "We graduate from college and can't find jobs; Han come to Urumqi [the capital of Xinjiang Province] with high school degrees and find work right away. Then this."
The main lament by Uighurs in Paris is that they are being presented to the world through Chinese media as a large "terrorist group."
Han Chinese say Uighurs do not appreciate the modernization and investment Beijing brings to the vast reaches of Xinjiang, which means "new territories."
Uighurs are Turkic-speaking people who deeply believe that their world, their religion, mosques, and language are being slowly swallowed by ethnic Han Chinese.
Roots of Chinese policy toward mainly Muslim Uighurs
---