Tour de France: Armstrong's team of rivals
At the halfway point, the race drama centers around two teammates vying for another win in the world's premier cycling event.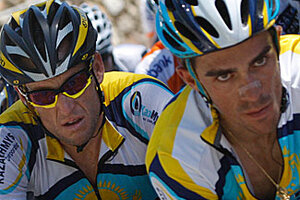 Christophe Ena/AP
It's 11 days into the Tour de Lance, er, France, with 11 days to go – and a midpoint check shows an intriguing race unfolding.
Drum roll, s'il vous plaît.
As much as other fine riders might wish it otherwise, the Tour is evolving as billed: It's about Team Astana and how its two top riders – the American old lion Lance Armstrong, and the Spanish young lion Alberto Contador – are working together (or not) inside that team. Both are burning up the road and the stopwatch.
At this point, with the Pyrenees behind them and the nasty Alps ahead, Mr. Armstrong is eight seconds back in third. Mr. Contador is six seconds back in second. Two seconds (that's one-thousand-one, one-thousand-two) separate them.
A Hollywood script couldn't do better.
The yellow-jersey leader is Italian Rinaldo Nocentini of AG2R, a French team. But many cycling fans believe that Mr. Nocentini can't keep this up. Four of the six leaders are in Team Astana – and they will set a pace in the coming crucial three-day Alps run that a mid-level rider like Nocentini is not likely to match.
Other prime contenders are lagging some two or more minutes back. British rider Mark Cavendish is ruling the sprints, but is one hour and 13 minutes behind overall – close to the outer rings of Saturn, in Tour terms.
The French love a psychological drama and they love the Tour. Now they are getting both. Contador, the 2007 Tour winner, was Team Astana's man. Then, Armstrong came out of a three-plus year retirement – partly, it has been suggested, to revive a doping-plagued premier event. With Armstrong riding so well, the race narrative is now as much about strategy on the Astana bus and pacts made around the team dinner table, as the performances. Armstrong suggests that the only way Astana can lose is if the team starts to fight.
---