Who killed Natalya Estemirova?
Colleagues of Ms. Estemirova say her murder Wednesday is part of a pattern that shows cost of a Kremlin pact with Chechnyan President Ramzan Kadyrov.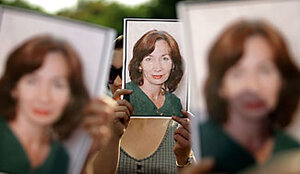 Sergey Ponomarev/AP
The murder of human rights activist Natalya Estemirova, kidnapped in Chechnya and shot execution-style in neighboring Ingushetia on Wednesday, has shocked the Kremlin and led President Dmitry Medvedev to pledge a full investigation.
But leaders of Memorial, the Russian human rights organization that Ms. Estemirova worked with, and other human rights experts here say her death can be added to a fast-growing price tag for a Faustian pact. They say that pro-Moscow strongman Ramzan Kadyrov "pacified" rebellious Chechnya, and in exchange, the Kremlin agreed to turn a blind eye to his methods.
"We know that Kadyrov controls Chechnya, and we know what [pro-Moscow] Chechen officials have said about Memorial, and Natalya, and her work. We have no illusions," says Alexander Cherkasov, a member of Memorial's board and longtime colleague of Estemirova's.
The head of Memorial, Oleg Orlov, told journalists Thursday that Mr. Kadyrov had threatened Estemirova in private conversation and admitted to her that he did not regret killing "bad people."
---