Did Russia pay high price for winning Georgia war?
It is responsible for economically troubled South Ossetia and may have spurred the European Union to seek alternative sources of energy.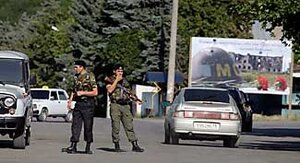 Sergey Ponomarev/AP
Though the dispute over who started the war between Russia and Georgia has yet to abate, most experts agree that it erupted during the night of Aug. 7 with an apparently well-planned and massive Georgian attack on Tskhinvali, capital of South Ossetia, which had won its de facto independence from Georgia in a brutal civil war nearly two decades earlier.
About a dozen Russian peacekeeping troops died in that assault, prompting Moscow to send its North Ossetia-based 58th Army swarming through the Roki Tunnel the next day. Russian forces rapidly routed the Georgians and went on to briefly occupy a handful of Georgian towns such as Gori, where they destroyed Georgian weapons.
Many experts argue that Georgian President Saakashvili merely handed Russia the pretext it had long awaited. But while Russia may have won the war, in doing so it exposed potentially fatal weaknesses in its unreformed Soviet-era military machine. It also took on two expensive new dependencies – South Ossetia and Abkhazia – whose nominal independence no country in the world, other than Nicaragua, has joined Moscow in recognizing.
---