Germans wary as mosque rises in Cologne
Plans to build the largest mosque in the country highlight a fundamental demographic change that some fear poses a threat to Europe's Christian culture.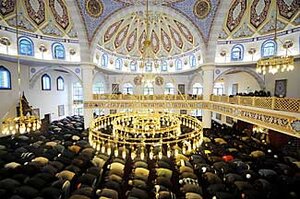 Volker Hartmann/AFP/Newscom
In the Middle Ages, Cologne, in the heartland of German Catholicism, set out to build the biggest cathedral in the world. In 2010, the city's Gothic masterpiece will have a new rival on the skyline: The soaring minarets of Germany's largest mosque.
The mosque has been a controversial topic in the country since it was first discussed in 2001 and only won construction approval last year. Cloaked within complaints about noise, parking, and its possible impact on property values was the unease of a Germany that is coming to grips with a fundamental demographic change – the rise of its Muslim minority – and worried that it might pose a threat to Europe's Christian culture.
Cologne's 120,000 Muslims are the most in any German city. By 2020, two-thirds of Cologne's residents are expected to have foreign – mostly Turkish – roots. Designed for 2,000 worshipers, the mosque's completion will be something of a coming-out party for a booming minority that has long lived in society's shadows.
And it's not just here. A handful of mosques 10 years ago have swollen to 164, and close to 200 more are under construction across Germany, says Claus Leggewie, co-author of "Mosques in Germany – religious home and societal challenge."
"[It's] like a dream come true," says Nalan Cinar of Ehrenfeld, the multiethnic neighborhood that's home to the new mosque. Ms. Cinar, like most of Germany's Muslims, doesn't wear a head scarf or consider herself to be particularly devout. But she says "the feeling of something beautiful being ours is invaluable."
---