Ten years on, Russia's Putin has gone from 'nobody' to unshakeably powerful
He has used a vigorous image and ruthless political strategy to recentralize state power. Some analysts expect he will soon formally return to the presidency.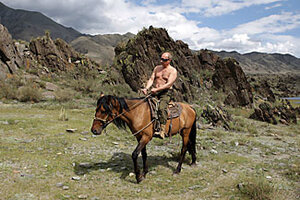 Alexi Druzhinin/RIA Novosti/Reuters
Ten years ago this week Vladimir Putin, a diminutive former KGB agent with an enigmatic smile, made his first appearance on Russia's political stage. He was Russia's fifth prime minister in barely a year, a virtual unknown plucked from bureaucratic obscurity. He was appointed to a thankless job by an ailing and increasingly out-of-touch President Boris Yeltsin, whose stumbling, corruption-plagued regime appeared to be swiftly falling apart.
The press at the time was filled with surprise and widespread derision at Mr. Yeltsin's "latest mistake." No one expected the new guy to last more than a couple of months. "Everybody thought Putin was a nobody, with zero chances," says Sergei Strokan, a columnist for the liberal daily Kommersant. "The Yeltsin regime was seen as a sinking ship that had been abandoned by everyone with ability."
What a difference the hindsight of a decade makes. Yeltsin unexpectedly resigned on New Year's Eve 1999, making Mr. Putin the acting president. He won a convincing electoral victory a few months later and has never looked back.
Putin, back in the prime minister's job after two successful terms in the Kremlin, is now regarded as Russia's indispensable leader. He has consistently higher public approval ratings – averaging a celestial 74 percent over the past 10 years – than his handpicked successor, President Dmitry Medvedev. Many experts believe it is Putin who actually rules Russia and, thanks to constitutional amendments rushed through parliament last year, he might well be back for a much longer presidential term in 2012.
---