Russia says Arctic Sea hijackers demanded ransom, threatened to blow up ship
Russian authorities say the case of the missing cargo ship has a straightforward explanation, but many in Europe still speculate something else happened.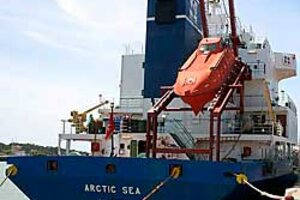 SOVFRACHT/ Reuters
A simple hijacking for ransom?
There's no mystery behind the hijacking of the Arctic Sea, the Russian-crewed cargo ship that touched off a frantic Russian naval hunt and a round of conspiracy theories, say Russian officials.
On Wednesday, Russian state news agencies quoted a Defense Ministry official as saying that eight hijackers who were detained on Monday had threatened to blow up the ship and its crew if a ransom of $1.5 million wasn't paid. He said the hijackers, who appear to have taken control of the ship shortly after it left Finland, and the crew continue to be questioned.
Russia says it has four Estonians, two Latvians, and two Russians in custody. They were arrested "during the operation to liberate the Arctic Sea," which was carried out by a Russian warship. The ships 15-man crew are all Russian nationals [Editor's note: The original version misstated the number of crew members.].
"Extortion and hijacking – that's where we are concentrating our investigation ... and that's the only thing we have factual evidence for," says Jan-Olof Nyholm, a detective superintendent for Finland's National Bureau of Investigation.
But doubts about this version of events continue to swirl.
Political analysts and maritime security experts remain skeptical that the hijackers were merely interested in the crew or the ship's cargo – a load of lumber bound for Algeria.
---