Lockerbie bomber release exposes US-British divide on justice
Prisoners' rights are well developed and compassionate release more common in Britain than in America, say experts.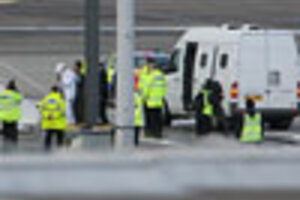 Scott Heppell/ AP
Scottish Justice Secretary Kenny MacAskill's granting of "compassionate release" Thursday to Abdelbaset al-Megrahi, the Libyan intelligence agent convicted of murdering 270 people in the 1988 bombing of Pam Am flight 103 over Lockerbie, earned an outraged response from US officials and family members of the victims.
US Secretary of State Hillary Clinton said she was "deeply disappointed" at the Scottish decision, and Sen. Frank Lautenberg (D) of New Jersey, whose state lost 30 residents in the attack, said the release is "an outrage ... that sends a message out to terrorists."
Rosemary Wolfe, whose 20-year-old stepdaughter Miriam was murdered in the attack said: "MacAskill forgot the compassion he should have for the families, for the victims. Compassion for a man who's shown no remorse makes no sense to me." Of the dead, 189 were Americans. The Scottish authorities say Mr. Megrahi has only a few months to live and should be allowed to die surrounded by his family.
But while opposition to the release has been heated in the US, a far different picture emerged today across Britain.
The only man convicted in the worst terrorist attack in British history, which left an indelible mark on tiny Lockerbie where 11 people where killed by falling debris, appears to be receiving a greater degree of sympathy.
---