Berlusconi's woes deepen with Vatican rift
Recent attacks by a family-owned newspaper on the editor of a Catholic newspaper have angered the Vatican, something that could undermine his government's stability.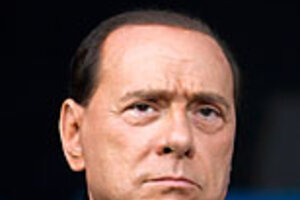 Tony Gentile/ Reuters/ File
Italian Prime Minister Silvio Berlusconi is facing a major rift with the Vatican that could put his own government at risk in this predominantly Roman Catholic country.
Mr. Berlusconi's political stability is not being threatened by one of his many sexual scandals of recent months. Instead, the source of his current troubles lies in an editorial in Il Giornale, a conservative daily owned by his brother Paolo.
Last Friday, Il Giornale published a front-page editorial attacking Dino Boffo, editor-in-chief of Avvenire, the daily of the Italian Bishops Conference, which runs the Italian Catholic church.
It accused Mr. Boffo of having had a homosexual relationship in the past and of having made threatening phone calls to his lover's wife. Il Giornale argued that, as a result, he "lacks the credibility to be a moralizer" – a reference to Avvenire's previous criticism of the prime minister's personal conduct.
"This is a huge step; nobody ever dared to attack so openly someone that important in the church," says Paolo Rodari, a Vatican analyst for the conservative Il Foglio. "To attack Mr. Boffo is similar to attacking one of the highest-ranking cardinals: His newspaper is run by the Italian Bishops Conference; it's the media image of the Italian clergy."
Il Giornale published a judicial record, showing that Boffo agreed to a plea bargain that required him to pay a €516 fine for the phone harassment of the woman. It could not provide, however, any proof about his alleged homosexuality.
---