Russia denies mystery ship was carrying missiles to Iran
Speculation that the Arctic Sea cargo ship seized in the Baltic in July was carrying weapons or other illicit cargo continues to swirl.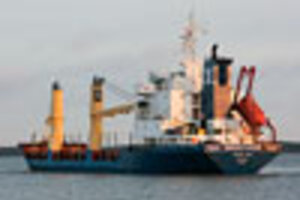 Pekka Laakso/ Lehitukuva / AP/ File
Russia angrily denied media reports over the weekend that a freighter seized in what was dubbed the first act of piracy in northern Europe in over 100 years was in fact carrying a secret cargo of missiles to Iran.
"This is absolutely not true," said Russian Foreign Minister Sergei Lavrov on Tuesday, reacting to claims made in last week's Sunday Times (London) and elsewhere that the Arctic Sea, the ship allegedly hijacked on July 28 off Sweden's coast and released on Aug. 16 by a Russian Navy ship, was secretly carrying S-300 antiaircraft missiles to Iran. The ship's official cargo was timber bound for Algeria.
Nevertheless, rumors continue to swirl around the seizure of the Arctic Sea, not least because Russia has not been forthcoming about the results of its investigation, centering around eight men who it says hijacked the ship and are now in Russian custody.
"All will become transparent, and I hope that everyone will be convinced that the rumors you refer to are absolutely groundless," Mr. Lavrov told reporters.
Earlier this month, Mikhail Voitenko, a Russian journalist who specializes in maritime reporting, fled abroad after he said he received threats for his reporting that ship was likely being used by corrupt officials to carry weapons. Mr. Voitenko broke the story of the ships initial "disappearance" from the Baltic Sea.
---