Amid British furor over Afghan rescue mission, war support plummets
The day after New York Times reporter Stephen Farrell was released by British commandos, a new poll finds growing opposition to the UK's troop commitment to the war.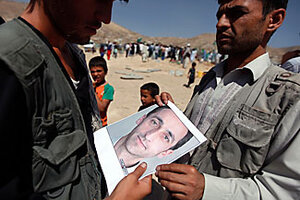 Ahmad Masood/ Reuters
A storm of controversy in Britain over a deadly rescue mission in Afghanistan is coinciding with a new poll that shows plummeting support for the war – something that could strain US ties with its closest NATO allies and present more obstacles to President Obama's push for the alliance to send more troops.
Britain is the second-largest contributor of troops to the NATO mission. But doubts about conflict's direction have turned Britons hostile towards an increased military commitment there.
Widespread allegations of election fraud are undermining international support for Afghan President Hamid Karzai. And the rescue of kidnapped journalist Stephen Farrell, which resulted in the deaths of one commando and Mr. Farrell's interpreter, Sultan Munadi, has only underscored concerns about a rising military death toll.
The new poll, conducted by the German Marshall Fund, asked voters if they would support a request from President Obama to increase troop levels. Huge majorities across Europe were opposed, with 75 percent of Britons and 86 percent of Germans saying Obama's request should be turned down.
---