How a picnic led to the fall of the Berlin Wall
Twenty years ago today, Hungary decided to test its allies' mood by opening its border, allowing thousands of East Germans to escape.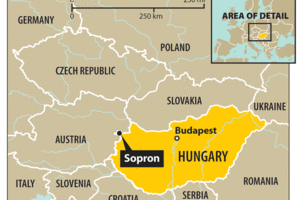 Rich Clabaugh/ Staff
These days, cars whiz through the abandoned border-control stations in the hills separating this Hungarian city from the villages and vineyards of Eastern Austria. Crossing the old Iron Curtain is much the same as traveling between US states: no fences, no guards, just a welcome sign.
Twenty years ago today, the militarized barrier between Soviet-dominated Eastern Europe and the democracies of the West met its end when Hungary's reform Communist government announced it would open its borders, allowing tens of thousands of East Germans to escape into Austria.
The decision triggered the largest westward exodus of East Germans since the construction of the Berlin Wall in 1961, unleashing a chain of events that brought down the Wall and the communist regimes of Eastern Europe.
"It was a snowball or a domino effect," says historian Geza Jeszenszky, a member of the anti-Communist opposition in 1989 and Hungary's first post-Communist foreign minister. "When so many East Germans escaped to the West, it undermined East Germany, which brought down the wall, which induced the Czechs to make the so-called Velvet Revolution and the Romanians to overthrow [dictator Nicolae] Ceausescu."
Some 10,000 East Germans crossed the border in the first 24 hours after the announcement and proceeded to West Germany, where they were entitled to instant citizenship. Hungarian border guards smiled and waved them through.
Little awareness of consequences
---