Moscow preservationists see silver lining in economic slump
The financial crisis has halted breakneck development in the Russian capital that was tearing down historic buildings and replacing them with replicas.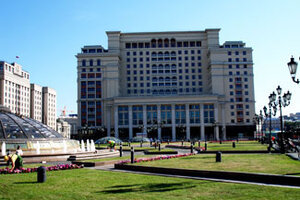 Fred Weir/The Christian Science Monitor
Once-bustling construction sites around Moscow have fallen silent since the financial crisis hit and the city's real estate bubble burst last fall. Most people shudder at the sight of the crane-topped skeletons of unfinished skyscrapers – reminders of an economic disaster that is still spreading.
But some prominent Muscovites see a silver lining. They say the city has gotten a second chance to halt the breakneck destruction of its historic center, and replace the anything-goes building splurge of recent years with a plan to preserve Moscow's architectural heritage.
"During the past 15 years we've lost our Moscow," says David Sarkisyan, director of the Shchusev State Museum of Architecture in Moscow. "Something like 600 buildings, key pieces of the city's architectural cocktail, have been ruined, and 300 more are under threat. But, strange to say, the crisis is helping. All the city's main developers are bankrupt, and the bulldozers have been stilled for the time being."
The extent of Moscow's helter-skelter transformation in recent years has been documented in a huge study published this summer by the Moscow Architectural Preservation Society (MAPS), a group founded five years ago by foreign journalists that has since expanded to include dozens of architects, historians, tour guides, and other Moscow-lovers. The report decries Mayor Yury Luzhkov's profit-driven strategy of allowing developers to rip apart famous old buildings and replace them with "sham replicas" – which have underground parking and modern amenities – as a "theme park approach to an historic city."
"There is no other capital in peacetime Europe that is being subjected to such devastation for the sake of earning a fast megabuck," the study said.
---