Norway reelects center-left government, dimming EU prospects
A hotly contested election campaign concluded with reconfirmation that Norway won't join the EU.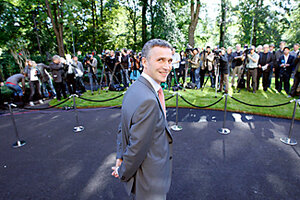 Lise Aaserud/ Scanpix Norway/ AP
Norwegians returned Jens Stoltenberg's center-left government to power after a hotly contested race in which his opponents tried, but failed, to unseat the only left-leaning government in Scandinavia by capitalizing on public opposition to immigration.
Norway has been buoyed by its oil wealth through the global recession – probably a decisive factor in the narrow victory for the three-party coalition that Prime Minister Stoltenberg leads. The coalition won 86 seats in the 169 member parliament, according to results released on Tuesday.
The victory assures continuity in Norway, not least in its intention to remain the largest country in Western Europe outside the European Union.
"We have no plans to seek membership," said Mr. Stoltenberg on Tuesday. "We are the only country in the world that has rejected it twice."
Norway is among the most euro-skeptical of European nations, and has voted twice against membership – in 1972 and 1994.
But proponents say Iceland's possible entry into the EU will force Norway to renegotiate its membership in the European Economic Area, a free-trade agreement that gives Iceland, Norway, and Liechtenstein the same free-trade access to European markets as that enjoyed by EU members. Norway and Liechtenstein will be the only remaining non-EU members if that happens, since Switzerland negotiated its own bilateral free trade deal with the EU.
"If Iceland becomes a member, then we must evaluate the situation," said Stoltenberg, who voted yes in 1994. "But I was there the last time when it was defeated in 1994 and I don't seek new defeats. I'm concerned with winning."
---