Funeral for Italian soldiers: turning point for troops in Afghanistan?
The Taliban killing of six soldiers in Kabul prompts calls for withdrawal. Prime Minister Silvio Berlusconi said there will be no pullout of Italian troops.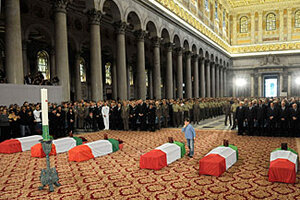 Italian Presidency press office, Enrico Oliverio/AP
As it holds state funerals for six soldiers killed in Kabul last Thursday, Italy joins other European nations whose public is growing hostile to participation in the war in Afghanistan. The timing couldn't be worse for the US, which is expected to soon ask its allies to send in more troops.
"Bring them home now! How many more deaths do we need?" shouted the crowd, as the six coffins were brought into the Basilica of St. Paul's Cathedral, in Rome. The service was shown live on Italian TV networks and was attended by top officials from the major political parties.
Prime Minister Silvio Berlusconi, who attended Monday's mass, pledged to withdraw 500 of the 3,100 soldiers currently deployed in Afghanistan. But those 500 were sent to temporarily beef up security during the elections and were returning home as planned.
But other members of his right-wing coalition said they want to end Italy's role in Afghanistan: "We sent them over there and they came back dead," said Umberto Bossi, leader of the Northern League party, who also attended the funeral.
As the Taliban target European troops, the military mission is becoming increasingly unpopular across Europe. A recent Italian poll showed that 58 percent want the troops brought home from Afghanistan now (compared with 41 percent in Britain and Germany). Another recent poll showed 75 percent of Britons and 86 percent of Germans said any request by the US for more troops should be denied.
---