Germany's Merkel earns mandate for change
Chancellor Angela Merkel won a 'center-right' coalition in Sunday's vote, but passing the proposed tax cuts of her main partner will be difficult in this economic crisis.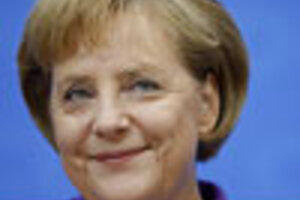 Michael Sohn/AP
In securing a "center-right" coalition from German voters yesterday, Chancellor Angela Merkel has earned a clear mandate for change. Dropping her liberal coalition partner for one with more free-market tendencies, she now faces the great difficulty of acting on that mandate in Germany's new era of rising upstart parties and muddled politics.
On Monday, Mrs. Merkel pushed for a new government by Nov. 9 – the 20th anniversary of the Berlin Wall's fall – but she is already tactically backing off the tax cuts that were the main platform of her new coalition partner, the Free Democratic Party (FDP).
A day after Merkel's own Christian Democratic Union (CDU) limped in with a poor showing in an election that may upend decades of dominance by Germany's two biggest parties – tough talks are under way with the upbeat, pro-business FDP, Merkel's new partner, and Guido Westerwelle, its dynamic young leader.
---