Binge drinking spreads to Italy
Italy takes steps to stop binge drinking, which is growing among Italians thanks to the influx of hard-drinking tourists.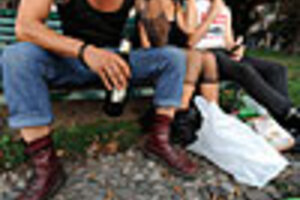 Paolo Bona/Reuters
It's 2 a.m. and the hours of sustained drinking are taking their toll. Smashed glass and plastic cups litter the streets, trash cans overflow with empty beer cans, and girls in high heels and short skirts totter unsteadily out of rowdy pubs. But this is not London or New York. It's Rome.
Italians have long been regarded as a model of Mediterranean restraint when it comes to alcohol consumption.
But all that is changing, for a complex mix of reasons. Italian parents, struggling in the country's worst recession since World War II, are working longer hours and have less time to supervise their teenagers.
The long-cherished tradition of drinking alcohol only as an accompaniment to eating has been severed, with drinking – and getting drunk – now seen as an end itself. The "rhythm of Italian life is changing," says the director of the Italian Institute for Health, Dr. Emanuele Scafato.
Beverage companies aggressively market ready-mixed drinks and "alco-pops" to teenagers, bombarding them with the message that alcohol consumption is sexy.
And Italians' attitude to alcohol has been transformed by the increasing numbers of young foreign tourists who descend on the country, particularly in the summer months. Budget flights have put Rome and other Italian cities within easy reach of young British, Irish, and other hard-drinking northern Europeans, not to mention Australians and Americans.
"We are seeing a strong Anglo-Saxon influence on the culture of drinking," says Gianluca Cecchini, the owner of Q's Bar in Trastevere, a cobbled Roman quarter of twisting alleyways and Renaissance piazzas just over the Tiber River.
---