Berlusconi set to fight sex scandals and corruption charges
Italian Prime Minister Silvio Berlusconi has been stripped off his immunity from prosecution, but political analysts say his government is unlikely fall.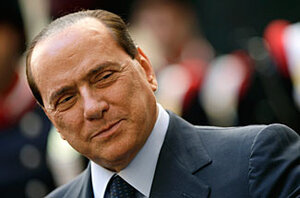 Tony Gentile /REUTERS
Italian Prime Minister Silvio Berlusconi has been buffeted by scandals that in almost any other Western democracy would have forced a president or prime minister to resign.
Now Italian prosecutors are going to have the chance to take a crack at Mr. Berlusconi. The country's highest court ruled Wednesday that a law he introduced that gave him immunity from criminal prosecution while in office is unconstitutional.
The ruling means that two trials in which Mr. Berlusconi is accused of serious corruption, and which were frozen when the immunity law was passed last summer, will now reopen.
In the most high-profile case, he is accused of paying $600,000 in bribes to his former tax accountant to provide false testimony in court during two other trials in the 1990s.
So does this spell the beginning of the end for the 73-year-old prime minister?
Strangely enough, probably not, at least in the short term. His coalition partners continue to back him, and Italy's legal system moves at such a laborious pace that the cases could expire under the country's 10-year statute of limitations. Even if Berlusconi were to be convicted of a crime, he has recourse to two levels of appeal, a process that could take years to conclude.
Berlusconi's political life has been as charmed as his legal problems have been deep in recent years. Eight years ago, The Economist famously ran a cover story titled "Why Silvio Berlusconi is unfit to lead Italy." It chronicled legal investigations of the prime minister extending back to the early 1990s on allegations of "money-laundering, association with the Mafia, tax evasion, complicity in murder and bribery of politicians, judges and the finance ministry's police." Two months later, Italy made him prime minister, a post he held until 2006. Last April, he was returned to his post in a landslide.
---