Turkey and Armenia take step toward diplomatic ties
US Secretary of State Hillary Clinton will attend the Zurich signing that moves the neighbors toward opening their border. They have long been at odds over the issue of the Armenian genocide.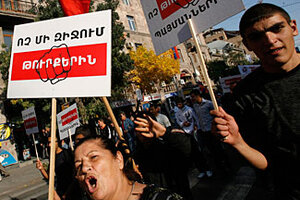 David Mdzinarishvili/REUTERS
In what could signal a watershed moment for the troubled Caucasus region, Turkey and Armenia are expected to sign a set of protocols in Zurich Saturday that will lead toward the renewal of diplomatic relations after decades of hostility.
Along with the Turkish and Armenian foreign ministers, US Secretary of State Hillary Clinton and her French and Russian counterparts are expected to attend the signing ceremony.
But experts warn that serious hurdles stand in the way of the two countries actually opening up their borders.
Ankara and Yerevan broke off relations in 1993 when Turkey closed its border with Armenia after it invaded the Azerbaijani territory of Nagorno-Karabakh. Turkey is Azerbaijan's strongest ally. But the animosity goes backs decades further to what Armenia alleges was the genocide of an estimated 1.5 million Armenians under the Ottoman Turks during World War I.
Turkey admits a significantly lower number of Armenians were killed, but fiercely rejects suggestions that the killings were genocide. Ankara argues the deaths were a result of a civil uprising when Armenians joined forces with invading Russians.
---