Frankfurt book fair's controversial guest of honor: China
Critics said choosing a guest of honor that jails writers is wrong, while others said the German fair's inclusion of China is a way to break down walls.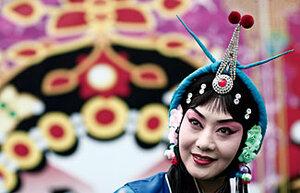 Johannes Eisele/REUTERS
The Frankfurt Book Fair is about literature, art, and culture. It's also a platform for controversy.
Whom the fair chooses as its guest of honor is what gets it in trouble. That was the case with Turkey in 2008, Spain's Catalonia region in 2007, Korea in 2005, and the members of the Arab League in 2004.
And now, with China.
Why, many say, highlight a country that muzzles writers with strict censorship laws, allows them to languish in prison, and has a poor human rights records, as with Tibet? And when Chinese officials walked out of a pre-fair symposium to protest the presence of two dissident writers, Dai Qing and Bei Ling, many asked: Did China deserve to be invited to the world's biggest publishing marketplace?
But books build bridges, German Chancellor Angela Merkel said at the book fair's opening ceremony Tuesday. Recalling the thrill of waiting for books to be smuggled from (then) West Germany into (then) East Germany, where she grew up, Mrs. Merkel said that "books played a big role in winning the cold war."
Inviting China to the world's largest reading room, she said, could help China get closer to the West.
---