Turkey's talks with Armenia test ties with gas-supplier Azerbaijan
In Azerbaijan, Turkish flags have been taken down and the Azeri president said his country might stop selling Ankara discounted natural gas. At issue is Turkey's move to renew relations with Armenia, which has a territorial dispute with Azerbaijan.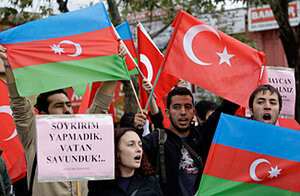 Ibrahim Usta/AP/FILE
Bound together by language and culture – and, more recently, by oil and gas pipelines – officials in Turkey and Azerbaijan frequently refer to the two countries as "one nation, two states."
But this slogan is being put to the test these days, following Turkey and Armenia's recent signing of protocols to restore diplomatic relations and open up their borders. That's something Azerbaijan is strongly opposed to, in the wake of the deal with Armenia that doesn't address a territorial dispute between Azberbaijan and Armenia.
The new tension between Ankara and Baku is raising concern that the Azeris – who sit on top of large reserves of oil and gas – might scuttle energy deals that involve Turkey, especially the Nabucco pipeline project, designed to ease Europe's dependence on Russian natural gas.
As Turkey tries to deal with one of its historic problems in order to improve relations with a neighbor, it appears other historic problems are creating new tension with another neighbor, with possible consequences for European energy security.
"If those countries which are genuinely interested in the Nabucco project influence Armenia so that it steps back from the occupied territories and both Azerbaijan and Turkey will be satisfied, then this will be remembered as only an episode in Turkey-Azerbaijan relations," says Ilgar Mammadov, a political analyst based in Baku.
---