Could IRA splinter groups bring back Northern Ireland's Troubles?
IRA splinter groups like the Continuity IRA have stepped up attacks in Northern Ireland. While they have a hard core and cause some mayhem, they are unlikely to spark a broader conflict.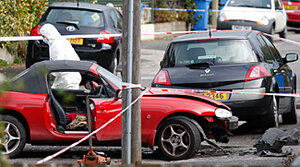 Peter Morrison/AP/FILE
This year, Northern Ireland has witnessed a resurgence of militant activity by Irish Republican Army splinter groups like the so-called Real IRA and Continuity IRA, most notably the killing of two British soldiers at Masserene Barracks in County Antrim in March.
Since then, bomb threats have been occurring on an almost weekly basis and security has been stepped-up in the north as a result. This week, a bomb detonated at an Army reserve base in North Belfast, though there were no injuries. Last week a car bomb went off in Belfast, injuring one.
Though the bombings have generated few casualties so far – and many have been identified and safely handled before they could go off – some in Northern Ireland fear that a bloody campaign is in the offing by militants who felt betrayed by the 2005 decision of the mainline Provisional IRA to give its up guns.
But analysts and police say that while there is clearly a hard core of militants with the ability and motivation to carry out attacks, few Roman Catholics in the north – even ones who would like to be united with the rest of Ireland – will back a new armed campaign,
Authorities say that a fair degree of planning has gone in to some of the recent attacks. The Belfast car bombing was carried out in the constituency of Northern Ireland's first minister Peter Robinson, of the hardline pro-British Democratic Unionist Party, and officials say the attackers had a strong knowledge of the area.
---