Karadzic boycotts own trial
Will the Yugoslav court allow Radovan Karadzic to employ the same tactics used by Slobodan Milosevic? Court will reconvene Tuesday.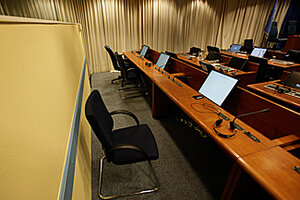 Peter Dejong/AP
With Bosnian mothers from Srebrenica shouting from the steps outside, the opening day of Radovan Karadzic's much anticipated war crimes trial lasted just 25 minutes. The Bosnian Serb leader accused of genocide and war crimes did not appear, as he earlier warned, saying he needed more time to prepare. He was apprehended 15 months ago, on a Belgrade bus in July 2008, posing as a bearded new age healer named Dragan Dabic.
"In light of the absence of the accused ... the chamber will adjourn ... until 2:15 p.m. tomorrow," said Chief Judge O-Gon Kown of South Korea. "We request Mr. Karadzic to attend so that his trial is not further obstructed."
Options appear limited to giving Karadzic more time, or appointing a legal counsel that he says he doesn't want, and that could prove disruptive in court. So far, no defendant in the 13-year-old Yugoslav tribunal has been forcibly seated.
The trial of Karadzic, accused of being the key architect and leader of four years of ethnic cleansing in Bosnia, started at 9 a.m. in Courtroom 1 of the Yugoslav tribunal, with prosecutor Hildegard Uertz-Retzlaff arguing that the judges should appoint a lawyer, "an imposition of counsel," in order to avoid obstructing the trial.
---