Turkey moves to engage more deeply in Mideast – and with neighbors
Turkey's government has inked new accords with Armenia and Syria, evidence of its bid to establish itself as a regional soft-power broker.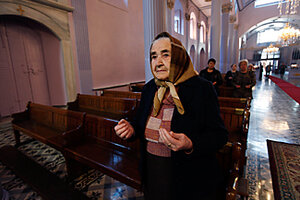 Murad Sezer/Reuters
Turkish leader Recep Tayyip Erdogan's visit to Iran Tuesday – defending its nuclear program and his "friend" President Mahmoud Ahmadinejad – capped two weeks of vigorous diplomacy that analysts say is aimed at bolstering its growing reengagement with the Middle East and its attempt to implement a policy of "zero problems" with its neighbors.
Stymied by European resistance to its bid for EU membership, Turkey's government has forcefully realigned the country's foreign policy over the past few years. Led by the liberal Islamic Justice and Development Party (AKP), it has sought to engage more with the surrounding region and to establish itself as a neighborhood soft-power broker.
But observers say that Ankara's foreign policy ambitions are tied up in first resolving what were, until recently, taboo issues – particularly the Armenian, Kurdish, and Cypriot problems – that have cast a heavy shadow over Turkey's domestic politics for the past few decades.
---