UK Iraq war inquiry: Will Tony Blair come under fire?
A UK Iraq war inquiry began Tuesday, amid allegations that British soldiers abused detainees during the war. The panel is to focus on how and why Britain went to war.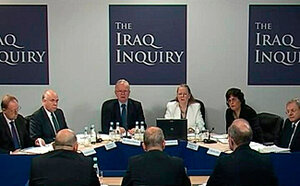 Reuters
Britain's official inquiry into the Iraq war got under way in London on Tuesday, but it's not likely to satisfy many of those who have long been awaiting it.
Critics of the war probably won't get what they most want from the government-appointed panel – a public drubbing of unpopular former Prime Minister Tony Blair for leading the nation to war in the mistaken belief that Saddam Hussein had weapons of mass destruction. And supporters of the war are unlikely to get a clear declaration that Britain's participation in the invasion was the right thing to do.
Battling Britons' low expectations for the government-appointed panel, chairman John Chilcot insisted in an opening statement that it would not hold back from criticizing institutions and individuals where this was "warranted."
A 'whitewash?'
A chorus of voices from across the political and legal spectrum is predicting that the inquiry, tasked with uncovering how and why Britain went to war, will be a "whitewash" and questions the competence of its six-member panel – which includes not a single lawyer or judge – to address the key issue of whether the invasion was illegal. 
---