Death of Russian lawyer tests Medvedev's anti-corruption pledge
Russian lawyer Sergei Magnitsky sued police for corruption, then died while in police custody. Is the investigation ordered by President Dmitry Medvedev a sign of tougher anti-corruption policy?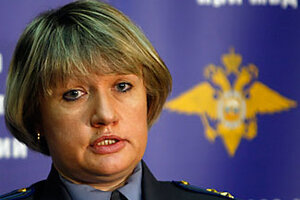 Denis Sinyakov/Reuters
Russian human rights activists are voicing cautious optimism that an investigation ordered by President Dmitry Medvedev might dig up some truth about the mysterious prison death last week of lawyer Sergei Magnitsky, who was involved in a massive corruption lawsuit against the police.
The head of the Kremlin's own human rights commission, Ella Pamfilova, on Monday urged Mr. Medvedev to take action over what she described as the "murder" of an anti-corruption activist in state custody. Mr. Magnitsky had repeatedly complained that medical treatment was being withheld as a means of pressure against him.
"We told the President about this case, and he immediately reacted and gave an order to investigate," Ms. Pamfilova says. "I think it is a disgrace," that Mr. Magnitsky, who was accused of a white collar crime, was even being held in a maximum-security pretrial detention facility, she adds.
Magnitsky's death, allegedly of toxic shock and heart failure, has evoked an unusual public outcry because his fate appears to have been sealed when he stood up to forces of corruption and official abuse that are familiar to every Russian.
Russian police are already under public scrutiny after one police officer, Alexei Dymovsky, posted a video on YouTube earlier this month, detailing official corruption, abuse of power and mistreatment of suspects.
---