Amanda Knox verdict: Is there hope for an appeal?
The American convicted of murder in Italy this weekend will have to wait at least three months before launching an appeal, but many say she stands a good chance of being acquitted.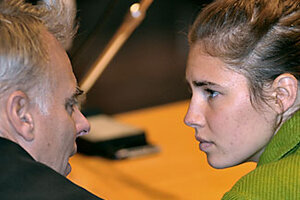 Stefano Medici/AP
It will be at least three months before American college student Amanda Knox is entitled to launch an appeal against her 26-year prison sentence for the murder of her British flatmate, with the process likely to take years, during which time she will remain in an Italian jail.
Ms. Knox, from Seattle, and her Italian former boyfriend, Raffaele Sollecito, were found guilty of the vicious sexual assault and murder of Englishwoman Meredith Kercher by an eight-person jury in Perugia.
Prosecutors claimed they forced Ms. Kercher to take part in a violent group sex game, but Knox's parents and many US legal experts say the trial was a travesty of justice, based on a coerced confession, unreliable DNA evidence, and the jury being influenced by the Italian media's portrayal of Knox as a calculating, promiscuous vamp.
Knox's family has vowed to launch an appeal against the verdict, which was handed down by a court in Perugia just after midnight on Friday.
Her parents, Curt Knox and Edda Mellas, who separated when she was young, said: "We are extremely disappointed in the verdict. While we always knew this was a possibility, we find it difficult to accept this verdict when we know that she is innocent, and that the prosecution has failed to explain why there is no evidence of Amanda in the room where Meredith was so horribly and tragically murdered."
The verdict brought shame on Perugia, a hilltop university city in Umbria, and on the whole of Italy, they said.
The appeal process
---