Climate change talks: What to look for at Copenhagen
The Copenhagen climate change talks kicked off on Monday. A Q&A on the key areas that will define success or failure.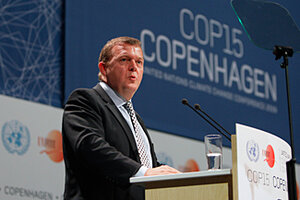 Anja Niedringhaus/AP
Delegates left the Bali climate change talks in December 2007 with high hopes that a grand bargain on reducing greenhouse gas emissions would be secured by now.
But today, as the latest round of climate change talks begin with representatives from more than 190 countries gathered in Copenhagen, Denmark, expectations are far more modest.
The biggest decision – a binding international agreement on reducing greenhouse gas emissions – is likely to be pushed off until next December, when another round of climate talks are scheduled for Mexico City. Nevertheless, two weeks in Copenhagen will yield insights into global efforts to control industrial emissions and the warming of the planet.
Below are some key questions:
What might success in Copenhagen look like?
Low expectations at the start of the conference may not be a bad thing.
"I think there was a sense all along that we were not going to be able to reach an international binding legal agreement in Copenhagen," says Eileen Claussen, who heads the Pew Center on Global Climate Change in Arlington, Va. But only in the last week did leaders acknowledge this. The results may disappoint some, she said, but added that it's a more realistic track.
---