Amanda Knox says 'The trial was carried out correctly'
Former student Amanda Knox reportedly said Tuesday that she has faith in Italian justice and hopes her guilty verdict for murder will be overturned on appeal.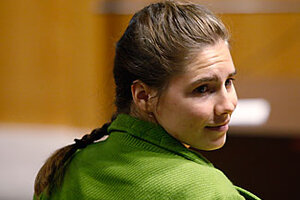 Luca Bruno/AP
Amanda Knox diplomatically tip-toed around the furore in the US over her 26-year-prison sentence for murdering her British flatmate, saying Tuesday that she felt she had received a fair trial but that she hoped the guilty verdict would be overturned on appeal.
The former college student from Seattle spoke publicly for the first time since Friday, when she burst into tears after a jury in the central Italian town of Perugia found her and her one-time boyfriend Raffaele Sollecito guilty of killing Meredith Kercher from Surrey, in southern England.
Journalists have not been allowed access to Knox but she spoke to an Italian MP who regularly makes prison visits and he conveyed her remarks to a respected daily newspaper, Corriere della Sera.
"The trial was carried out correctly," Knox told the legislator, Walter Verini, from the centre-left opposition Democratic Party. "My rights were respected."
---