Nobel prize winner Obama will face Afghan war opponents in Oslo
As Nobel prize winner Obama heads to Oslo to accept his Peace Prize on Thursday, opponents of his escalation of the Afghanistan war promise to demonstrate against him.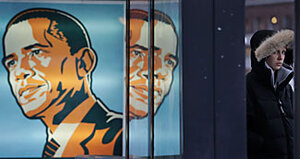 Odd Andersen/AP
When President Obama accepts the Nobel Peace Prize in Oslo Thursday, he will do so knowing that he is not the only one doubting his worthiness.
According to a Quinnipiac University poll published yesterday, 2 out of 3 Americans do not think he deserves the prize. Even among Democrats, only 49 percent believe he does.
"It's probably a good thing for President Obama that the time difference from Norway means the Nobel presentation will occur while most Americans are sleeping and might get less coverage in the United States," said Peter Brown, assistant director of the Quinnipiac University Polling Institute.
The Nobel decision has been criticized for being awarded just nine months into Mr. Obama's presidential term and while the US is heavily embroiled in military campaigns in Afghanistan and Iraq. Obama announced last week the US would deploy 30,000 more troops to Afghanistan in a war he expects to last through 2011.
---