Obama Nobel Prize speech: There are times when force is necessary
In his Nobel Prize acceptance in Oslo, Obama said that we will not eradicate violence in our lifetimes. Some 5,000 people were expected to protest the Afghan war and other issues.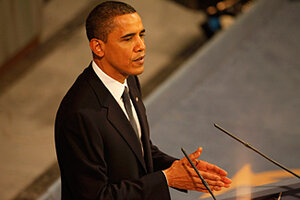 Thomas Peter/Reuters
US President Barack Obama acknowledged today the paradox of receiving the Nobel Peace Prize in Oslo while the US is in the midst of two wars, but justified the use of force to achieve peace.
"To say that force is sometimes necessary is not a call to cynicism – it is a recognition of history, the imperfections of man and the limits of reason," President Obama told the audience of hundreds gathered at the Oslo City Hall Peace Prize ceremony to hear his 4,000-plus word acceptance speech.
"We must begin by acknowledging the hard truth that we will not eradicate violent conflict in our lifetimes," he added. "There will be times when nations, acting individually or in concert will find the use of force not only necessary but morally justified."
Obama was awarded the Nobel Peace Prize for his "extraordinary efforts to strengthen international diplomacy and cooperation between peoples," and his work toward a world without nuclear weapons.
But the Peace Prize committee has been criticized for giving Obama the award so early in his presidential term and when he is commander in chief of a nation at war. The decision last week to send 30,000 more troops to Afghanistan fueled the debate even more.
In Oslo, up to 5,000 people are expected to demonstrate later this evening to protest the president's engagement in Afghanistan as well as Israeli settlements, arms trading, and nuclear proliferation. Among the demonstrators will be Cindy Sheehan, the US antiwar activist, who had sharp reaction to Obama's remarks. "Between Obama and the Nobel committee," she told the Monitor, "they were telling us the only alternative to any problem is war, and the only way to peace is war."
---