US, Poland status of forces pact deepens military cooperation
The US, Poland status of forces pact signed Friday allows deployment of a missile defense system to go forward. An earlier proposal for a more robust missile system had drawn the ire of Russia.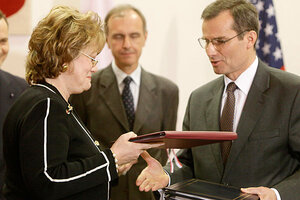 Czarek Sokolowski/AP
The US and Poland have reached an agreement to station an American antimissile defense system on Polish soil two months after plans to install a more robust missile system in Poland and the Czech Republic were scrapped in the face of intense Russian opposition. But the close military cooperation between the US and Poland, including US troops in the country, means the deal is likely to remain a major concern for Russia.
The deployment, under a new Status of Forces Agreement reached between Poland and the US, calls for US troops to install and operate a mobile, land-based set of short- and medium-range missiles to defend against incoming attacks.
The equipment includes SM-3 IA missiles and a MIM-104 Patriot mobile missile battery. Both types of missile are designed to shoot down short- and medium-range ballistic missiles. The missiles could arrive in Poland as soon as the first quarter of 2010.
Though Russia is unhappy about the growing military ties between the US and former Warsaw Pact nations, the current plan is more modest than the earlier one, which included long-range missile interceptors. The missiles to be stationed in Poland will not have the capacity to be used offensively against Russia and aren't capable of shooting down the long-range missiles in the Russian arsenal.
"This agreement constitutes a proof for the strong cooperation between our two nations," said Ellen Tauscher, undersecretary of State for arms control and international security affairs. "I hope that it will become only stronger."
The Polish news agency PAP quoted Polish Defense Minister Bogdan Klich as saying that "the SOFA deal should be ratified soon by the parliament," which should "permit the US to meet the commitments it had undertaken last August."
---