At Copenhagen, many global warming issues likely to be unresolved
As the Copenhagen global warming talks head into their final days, observers say many climate change issues are likely to be left unresolved.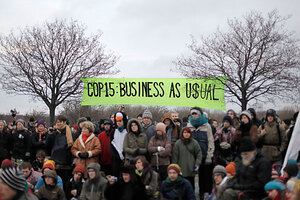 Thibault Camus/AP
Talks on a new global warming pact in Copenhagen reached a more politically rarified height today as ministers from more than 190 countries took the hand-off from their technical negotiating teams.
Over a week of negotiations left a large number of unresolved issues that now land squarely in the laps of cabinet-rank government officials to resolve.
The process has been complicated by the early arrival of several heads of state, who are getting involved in the talks far earlier than anticipated.
The accelerated timetable prompted the meeting's president, Connie Hedegaard, Denmark's environment minister, to resign her presidency this morning and turn the reins over to Denmark's prime minister, Lars Løkke Rasmussen.
The rationale: It takes a head of government to cajole other heads of government. Ms. Hedegaard has continued to keep the process moving at the ministerial level.
With heads of state now directly involved in the talks, some observers say they doubt much will come out of the meeting beyond a symbolic statement.
One diplomat veteran of global-warming talks and international trade talks said that once heads of state get involved the outcome tends to be "a one-and-a-half page statement with nice words," with key decisions put off until the next major gathering.
To be sure, others are less pessimistic.
In a press briefing Wednesday Yvo de Boer, executive secretary of the UN Framework Convention on Climate Change, said, "I still believe it's possible to reach real success. But I must say in that context that the next 24 hours are absolutely crucial."
---