Closing largest Kurdish party DTP, Turkey could stall reform efforts
Turkey's closing of the largest Kurdish party, the Democratic Society Party (DTP), has sparked deadly riots and could stall these reform efforts. Turkey had recently introduced a reform package friendly to its restive Kurdish minority.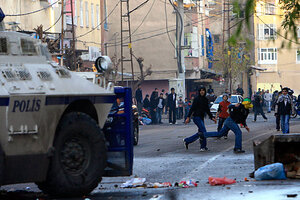 Osman Orsal/Reuters
The government's introduction in recent months of a political reform package has increased hope that Turkey is on its way to finally implementing a civilian – rather than military – solution to its decades-long Kurdish problem, one that has cost an estimated 40,000 lives since 1984 and has stood as a roadblock along Turkey's road to democratization.
But now there are growing concerns that the new reform effort could be undermined by the closing of the country's largest pro-Kurdish political party and increasing tension in its predominantly-Kurdish southeast region. On Tuesday, two more people were killed in riots that first erupted on Friday when Turkey's Constitutional Court voted unanimously to shut down the Democratic Society Party (DTP), the only pro-Kurdish group in parliament, accusing it of engaging in separatist activity and supporting the PKK. The government today hastily convened a meeting to plan a roadmap to resolve the unrest.
Observers worry that an upsurge in violence could harden nationalist sentiments among both Turks and Kurds, leaving the government stuck between Turkish nationalists on one side and Kurdish nationalists on the other.
---