Will Serbia's bid to join the EU help shed its pariah status?
President Boris Tadic launched Serbia's formal bid to join the European Union on Tuesday, saying that the country would overcome 'challenges' in its relationship with the EU, including differing views on the independence of Kosovo.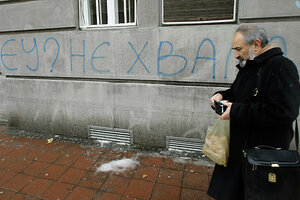 Darko Vojinovic/AP
Serbia's president on Tuesday handed over his country's application to join the European Union and vowed Belgrade would continue to hunt down and capture war criminals wanted by an international tribunal.
Serbia's bid to become a member of the 27-nation bloc hinges on its cooperation with the UN war crimes tribunal for former Yugoslavia. Several EU countries have said Serbia must first arrest fugitives from the Balkan wars, including former Bosnian Serb general Radko Mladic.
"We are doing everything that is possible to arrest them," President Boris Tadic told reporters in Stockholm. "If they are on Serbian soil they will be captured."
Tadic submitted Serbia's formal application for membership to EU expansion commissioner Olli Rehn and Swedish Prime Minister Fredrik Reinfeldt. Sweden holds the EU's rotating presidency. Tadic said it was "a historic day" for his country.
Serbia has been encouraged by recent EU decisions to unblock a pre-entry agreement with Belgrade and abolish a visa regime for its citizens.
---