Europe warms to full body scanners at airports after Northwest bomb scare
Europe leaders are now reconsidering using full body scanners that they had until recently opposed as lurid and voyeuristic.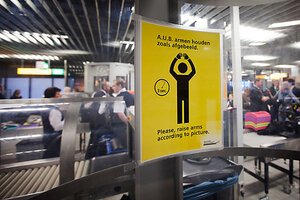 Cynthia Boll/AP/File
When first raised by European Union officials last year, airport "body scans" of passengers were panned by politicians and media here as an unthinkable violation of human rights and dignity.
Yet a week after a failed bombing attempt on a Detroit-bound aircraft – in which a body scan could have detected padding used by Umar Farouk Abdulmutallab to hide explosive capability – views are changing. While many European authorities are not on board officially, a shift from "unacceptable" to "acceptable, provided the technology can be improved to protect modesty" is underway.
The issue remains sensitive and divisive. But in a reversal of stated policy, German justice and interior ministry officials are saying the electromagnetic scanners that offer clear imaging underneath clothes are preferable to security measures that did not prove effective in stopping Mr. Abdulmutallab.
German Interior Minister Thomas de Mazière said he is ready to introduce full body scanners if they are safe and "fully guarantee" the privacy rights of passengers. Wolfgang Bosbach, Bundestag interior committee chief, told Germany's Tagesspiegel: "If this technology [full body scanners] has demonstrated its usefulness in practice, i.e. it works reliably and is quick, we should use it."
---